PESACH
at Chai Center -Coral Springs
| | | |
| --- | --- | --- |
| | Pesach:March 30th-April 7th, 2018 | |
| | |
| --- | --- |
| | MESSAGE FROM THE RABBI |
 Pre Passover Kabbalah Lecture 
Passover commemorates the miraculous freedom of the Jewish people from Egyptian slavery, over 3000 years ago.
It also contains uniquely powerful energies for personal and cosmic transformation
HERE AND NOW.
 Thursday, Mar 15 - Mar 22 7:30 pm 
No Cost -Rsvp Required -Click here 
| | |
| --- | --- |
| | COMMUNITY SEDER |
Community Pesach Seder 
Led By: Rabbi Hershy and Chanie Bronstien 
Seder -Friday, March 30th and Saturday March 31st  -Seder -7:30pm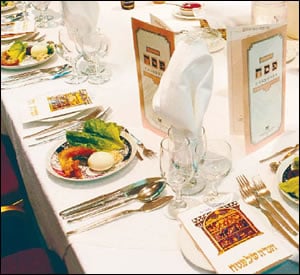 Join the Chai Center for an inspirational Passover Seder on the first night of Passover. The event promises to be an interactive learning experience. Enjoy delicious matzo, wine, fish, chicken soup, roast chicken and more.
Insights into the Haggada 
Inspirational English Services 
Delicious 4 course dinner 
Traditional Songs
$38 Adults and $18 Children
Table Sponsor $360  - Seder Sponsor $500 

Location: Chai Center Coral Springs -Reception Hall  
5761 Coral Ridge Dr Coral Springs FL 33076 
For more info please call 954-341-9511
| | |
| --- | --- |
| | SERVICE SCHEDULE |
Friday– March 30th
Fast of the First Born
Eat Chametz until:11:14 a.m.
Burn Chametz before: 12:18 a.m.
Candle Lighting: 7:19 p.m.
Afternoon Services: 7:00 p.m.
First Seder: 7:30 p.m.
Saturday – March 31st
Morning Services: 10:00 a.m.
Evening Services: 7:15 p.m.
Candle Lighting: after 8:17 p.m.
Friday April 6th 
Shabbat Candle Lighting: 7:22 p.m.
Evening Services: 7:30 p.m.
Shabbat  – April 7th
Morning Services: 10:00 a.m. 
Yizkor Memorial Service: 11:00 a.m.


Meal of Moshiach: 6:30 p.m.




Passover Ends: 8:16 p.m.
Join us for services at 5761 Coral Ridge Drive, Coral Springs, FL 33076-3101 USA
| | |
| --- | --- |
| | SELL YOUR CHAMETZ |
Use this online form to sell your chametz for Pesach.
Any chametz left undisposed must be sold to a non-Jew. Since there are many legal intricacies involved in this sale, a rabbi acts as our agent both to sell the chametz to the non-Jew on the morning before Pesach and also to buy it back the evening after Pesach ends. Use this online form to quickly delegate a rabbi to sell your chametz for you.
| | |
| --- | --- |
| | MEAL OF MOSHIACH |
Tuesday, April 18th, 6:30 pm (starting with Mincha)
Just when you thought you had seen it all! This day, the final day of Pesach, emphasizes an even higher Freedom! It is dedicated to our imminent and final redemption.
Following the custom of the Baal Shem Tov, founder of Chassidism, Pesach concludes with a "Feast of Moshiach." This festive meal complete with Matzah and, yes, four cups of wine, begins before sunset. It is the perfect way to spiritually take leave of Pesach and open our consciousness to the coming redemption.
| | |
| --- | --- |
| | PESACH STORE |
Do you need a haggadah? Or perhaps a nice kiddush cup? Or a gift for a host? Get everything you need for pesach and support Chabad at the same time.
| | |
| --- | --- |
| | HOLIDAY GUIDE |
| | |
| --- | --- |
| | PESACH PICKS |
Pesach is a great time to reconnect with our history and traditions. Take a few moments and read some interesting and new handpicked Pesach features from our site, from the practical to the esoteric. You'll find something to share with your family, and perhaps gain a new perspective on Pesach.